Posted on Jun 22nd, 2012 | 5 comments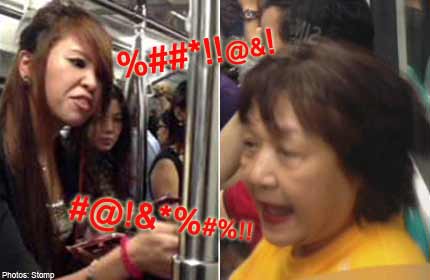 How To Calm Down When You Are Caught In An MRT Fight Over Seat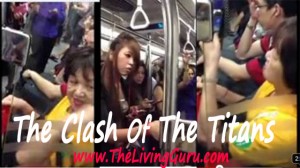 The online community has been hotly debating over a video of a young girl and an old woman caught fighting on the train over a priority reserved seat, typically given to commuters who need it.
The video shows the girl and woman engaging in a small squabble before it escalates into an exchange of vulgarities and fingers pointing.
Beyond the MRT saga of insults trading, perhaps it's worthwhile to just pause to consider this : Tongues are known to wage wars – tongues are deemed the deadliest killer by some because they can destroy relationships and break trust.
Hence this article will show you the Video (of  The MRT Fight Over Seat and How The Auntie Berates The Young Girl, whom some have termed an Ah Lian perhaps due to her style of dressing).  Then this article will end with TIPS on HOW TO CALM YOURSELF DOWN IN THE FACE OF ANGER
Back to the Video and The MRT QUARREL SAGA :  It seems that a witness said to a local Chinese daily had said that the fight started when the old lady boarded the train at Outram Park station with her foot in a bandage.  The girl, who was seated at the priority seat,  had not noticed and did not give it up to the woman.   The woman then uttered words of disapproval towards the girl, which got the girl's attention who then gave up her seat for the old lady.
Alas, that was when the saga started.  The old lady started complaining aloud of the girl's disrespect.   Gasoline was added to fire when the older woman tried to take a picture of the younger woman, threatening to publish her pictures.   The quarrel grew into an unfortunate situation that has become the talk of the talk, and again raising the issue of national graciousness noticeably absent in the episode.   Some might recall that was what happened in the Sun Xu saga (article here) when Sun Xu commented Singapore's society is 'uncultured' and there were more dogs than humans.   Many netizens also lament on the embarassing lack of social grace in Singapore's society.  Do you agree?
Several new youtube videos have sprouted amongst which is a  new youtube video posted about on 21 Jun 2012,  by The Living Guru, The Trendiest Inspirational Lifestyle Blog, and it has garnered over 52,000 views and over 1000 comments in merely 9 hours.
Some 'FUNNY' comments on this MRT Fight Over Seat' video include :
"Ironic how a Singapore auntie can stand for hours to queue up for free gifts but can't stand in the train or bus for long. But anyway, a Thank You will be nice, auntie."  (from rosneayu)

"Stand on train for hours. Wow. How big is Singapore only? (from 2331GogumaLover )

"DAMN BRO THIS AH LIAN.. WATS HER FACEBOOK? LOL WANNA ADD HER.. " (from nicky7789)

"Girl, try your best to chillax! Auntie, this is not your house.  How old are you? Show the younger ones what you want them to be.  I would have done much worse than the girl"  (from GuyGaranzoVEVO)
Almost the majority of netizens are supporting the Younger Lady for her stand against The Auntie in the MRT.  To quote some YouTubers' views :
'Kudos to the ah lian for standing up to such a bully…. :)"  (from hildabedahbedoo)
"Did her 'stare' cause great immense pain the old lady's leg??? i have no idea why the old lady is scolding the considerate girl.. :)" (from theawesomestbeaver)
"Unreasonable old woman. It's not a right but a BONUS when someone gives up their seat for you.  And instead of a "thank you" this girl got scolded.  What in the world… And no one stood up for her."  (from natlongrox)
"This gal is cool, she had tried her best to endure this idiotic auntie.." (from cm tradition)
"Aren't our ancestors are from China?  How is that even an insult? Grow up."  (from Darren Ong)
Some more 'Reflective' views over this MRT Quarrel :
"I felt ashamed to see how some of our citizens behave. I traveled on public transport on occasions and when necessary. You may have experienced and heard how some of the commuters behave on public transport. They would talk loud to let others to know of their behavior n their personal character. In Japan and Korea you hardly hear them talk while in the train even using the phone. Can we live graciously? We should learn to respect ourself before others can respect us."   (from Imharable)
An interesting blogpost by Luke Ng tried to view the matter from another perspective.  He noted that the video only recorded part of the quarrel and has not ascertained the possible TRUE cause of the conflict that supposedly happened before the video was shot.  He explained: "Usually, our minds are automatically programmed to divide the absolutely right party and the absolutely wrong party… should we be more considerate?"
Are You Ready To Watch The Auntie vs The Girl's Saga In The MRT?
Many Singaporeans have sided the young girl, giving her tremendous online support, with Facebook group 9GAG Singapore even giving her the Most Polite Ah Lian award in a macro image that has gotten over 6,000 shares.    A social blogger Aaron Koh describes the young lady as "Ah Lian of the Week".  It's meant to be a compliment.  Facebook users largely commended positively on the girl's restraint in handling the situation, with user Chua VenomCaster finding it "really cute" that the girl used the word "PLEASE" before returning expletives at the old woman.
 (Note : The Living Guru does NOT consider the young lady an Ah Lian, but is merely repeating online opinions)
What Happens If You Are Caught In A 'HOT" Situation Like The MRT QUARREL OVER A SEAT?
We all at some point lose our cool.  Sometimes for the best of reasons, but sometimes due to a small factor which triggers off pent up emotions or emotions experienced in the past.
What do we do to calm ourselves down when we are losing our cool?  Whether it's a bad service in a restaurant, or whether it's your unreasonable client's behaviour, or whether it's a shouting MRT match – you can retain composure and dignity by learning how to be calm even if you have an overwhelming reason not to be.
 5 Tips To Calm Yourself  When You Are Angry / When You Face An Angry Auntie or Reason To Be Angry In An MRT
1.  BREATHE Deeply and Count to 10.  (and if it isn't enough – count to 20).  Deep breathing releases oxygen into your brains and does wonders in moments of anger.  Also, breathing allows you to EXERCISE some form of CONTROL over the situation, which you seem to have lost control over.
2.  RECOGNISE that your are angry and ask yourself if you want to be angry and whether it's worth it losing your cool.
3.  Take back the POWER – if you are angry, you are giving away power to the person, or situation or the cause.  You can decide to take the power back and keep your cool.
4.  Lower your EXPECTATIONS.  When you hold high expectations, you get disappointed more easily and anger can result.  When you adjust your expectations in a practical manner, your behaviour accordingly adjusts too!  It can be expectations of others' behaviour or even expectations of your own behaviour.   Recognise that you are dealing with humans or imperfect situations that happen all the time.
5.  Take TIME OUT – walk away from the situation temporarily.  When you remove the 'anger trigger' or reason for anger for even a moment – you break the angry or uncontrollable pattern of behaviour.  This helps you to regain your composure and even when you return to the same situation, you are less likely to resume the uncontrollable rage.
If all the above reasons fail – SCARE YOURSELF and be warned that your behaviour could be viewed by millions online at the blink of an eye.  As is the case with the ferocious auntie who berates the young girl over the  MRT seat that the girl has given up to her but… the rest is the story you know.   Most of us exercise restraint when threatened with the prospect of being 'watched' 🙂
Thank you for reading – Remember – Don't Get Into A Fight In The MRT Over A Seat! (ok that's tongue in cheek).  You might like these other articles and video :
HOW TO FORGIVE YOURSELF FOR A MISTAKE
WOULD YOU REPORT TO POLICE OVER YOUR SON'S HAIRCUT?
SUN XU SAGA (article – this story was another case of saying the wrong thing)
SUN XU  Story in Video below :
What Happens If You Are The Aggressor and REGRET Your Actions Afterwards?  Perhaps the video below might help you :


5 Responses