Posted on Dec 9th, 2013 | 0 comments

Police confirmed a riot occurred at the junction of Race Course Road and Hampshire Road in Little India at 9.23pm Sunday 8 Dec 2013.  Police officers are at scene and are in control of the situation.
The Straits Times reported that the rioting in Little India was by mainly foreign workers started after a bus hit a Bangladeshi worker.
In a police statement,  10 officers had been injured, and that 5 police vehicles, 1 ambulance and several private vehicles had been damaged by an estimated 400 rioters.
Deputy Prime Minister and Minister of Home Affairs Teo Chee Hean said, "This is a serious incident which has resulted in injuries and damage to public property. The situation is now under control. Police will spare no efforts to apprehend the subjects involved in the riots."
Apparently, the riot broke out after a fatal traffic accident occurred at 9:23pm on Sunday 11 Dec 2013 between a private bus and a person at the junction of Race Course Road and Hampshire Road.
Police said they activated resources from Special Operations Command and Gurkha Contingent to the scene, which successfully managed to control the riot in Little India.
The Singapore Police Force tweeted at 11:47pm Sunday evening that a riot was ongoing at Race Course Road and Hempshire Road and that police are at the scene.
They advised the public to stay away from the area.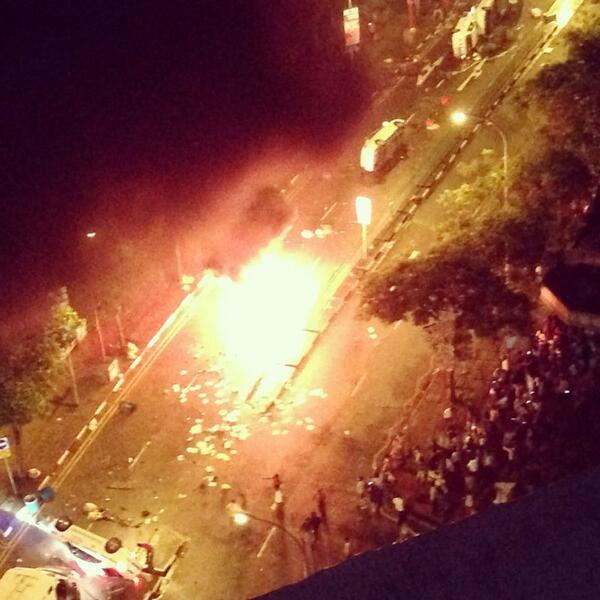 Photos showed an ambulance had been set on fire and police cars had been overturned by an angry mob.
Rioters were seen throwing bottles and other things at police officers and some estimates put the crowd at 400 people.
Here are pictures, videos and thoughts about the riot :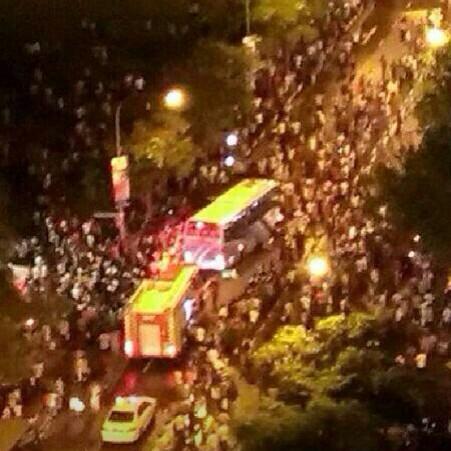 Anthony : "What could have happened to Singapore which is known for its safety?  Can I let my children walk on the streets?"
Melissa :  "A riot is a serious matter.  Hope the authorities investigate the matter thoroughly and make known the findings to the public."
Derrick :  "Let's pray that everything can be resolved amicably and peacefully without anyone getting hurt unnecessarily."